About
Produced by FLOOD, the group that brought Long Beach Soundwalk and soundpedro, PUMP will be the first in a series of biennial events highlighting culture and creativity.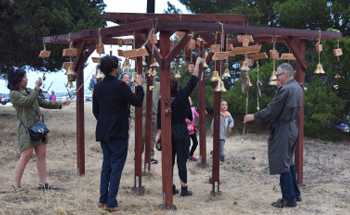 An array of exhibits, presentations, and performances will isolate or link our senses and ways of perceiving.
Striving to serve as a conduit, not only of local but also of regional and international expressions of imagination and artistic practice, our hope is to engender a sense of overlap and tension that will foster, within Long Beach's dynamic art scene, an ecology rich in influence and exchange.
Mission:
PUMP functions as a conduit of multi-sensory experiences that communities have the opportunity to encounter.
The Case
Long Beach has one of California's largest inventories of artists. This is, in part, because artists can live cheaper in Long Beach and because Cal State Long Beach houses the largest arts program west of the Mississippi. As a result, the city is economically hospitable to emerging and struggling artists alike. At the same time, our city's historical link to port, industrial, resort, military, and blue-collar cultures has influenced the local communities' and government's sometimes dismissive attitude and stance towards arts and culture, resulting in waves of arts scenes coming and going throughout Long Beach history. Other than a handful of mainstream arts venues and institutions, Long Beach's cultural infrastructure offers nothing more than a gritty seaside backdrop in which presentations and exhibitions are self-started, underground or upstream in nature and tone. One can characterize Long Beach more as a city of friendly artists than as an artist-friendly city.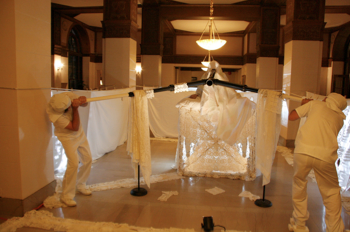 With an expansive artist inventory comes a diversity of practices, approaches, as well as skill sets. Good and bad art abound in Long Beach. It is a city in which one encounters work that can be raw and crude or work that is skillful and refined.
All too frequently, those artists who are able to make the transition from bohemia to the "Art World," no longer, literally or figuratively, count Long Beach as home with some pulling up stakes and moving elsewhere and others residing but no longer exhibiting here. As a result, akin to its port and oil past, our city has served as a way station and conduit, moving some of its best art and artists to more exclusive, prestigious, and lucrative markets.
Enter PUMP. This event recognizes our city's identity as a point of artistic origin while, at the same time, attempting to explore the possibilities of making Long Beach an end point and destination for artists and art lovers. That which is local in all its aspects and without aesthetic prejudice will be part of this biennial survey. Fame and anonymity is celebrated equally. It is up to the visitor to exercise taste and discernment.