Annette Heully
Annette Heully, a nationally exhibited artist, earned her MFA from California State University Long Beach with an emphasis in Fiber. She received her BA from San Francisco State University with an emphasis in Textiles. She currently lives and works in the Los Angeles area.
In her work there is an intersection between the animate and inanimate as well as references to the body and landscape. She is interested in how over time, seemingly inanimate forms slowly shift, settle, change and become animate. Although the results are not always immediate, our environment and body have a great effect on each other. Over time physical wounds heal into scars, feelings of loss are soothed by time, tides rise and fall, and paths are made as we walk. These phenomena are just as prevalent externally as they are internally. Heully is interested in this intersection and how the beauty, synchronicity and poetics of life can be transformed into a visual, spatial and material experience.
Interconnected are pairs of legs created through knottless netting with waxed linen. Annette creates knotless net over forms of her own legs and over time the forms start to stretch and change capturing a sense of time. The piece was inspired by her mother, with whom she has very similar hands and feet. The piece brings up ideas of past and future generations of her family that share the same hands and feet. The piece also references the ocean and the ties her family has with the sea. Annette's mother was born and raised in New Zealand and she remembers her telling stories about how she went to the ocean before she left her country to come to the United States. She said that as long as she had the ocean she would always be connected to home. With this in mind, the piece captures the interconnected relationship between past, present, and future as well as the environment.
Exhibition Dates:
Saturday, October 7, 2017
to
Saturday, October 21, 2017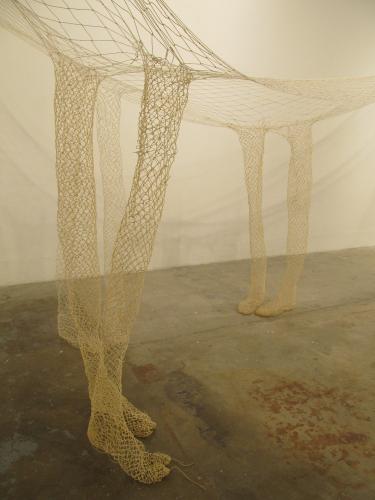 ---
Produced by FLOOD in partnership with: