Deborah Aschheim
Deborah Aschheim makes installations, sculptures and drawings about memory and place. She has mapped networks of video and light across gallery spaces to replicate the fragile, intimate lattice of her own neural networks, collaborated with musicians to create sound sculptures that play original music based on her favorite words and worked with doctors and neuroscientists to learn about memory and forgetting in the brain. She has had fairly recent exhibitions at the University of Nevada, Las Vegas; Oficina de Proyectos Culturales in Puerto Vallarta, Mexico; Suyama Space in Seattle, WA and San Diego State University. She has created permanent public artworks for the Sandler Neurosciences Center at UC San Francisco; for Amazon.com in Seattle, WA; for the City of Sacramento and for the Los Angeles Police Department. She was Hellman Visiting Artist at the Memory and Aging Center in the Neurology Department at UCSF and has received artists' fellowships from the California Community Foundation, the Center for Cultural Innovation, The City of Los Angeles, City of Pasadena and the New Jersey State Council on the Arts.
Camelot and other stories:
Camelot is a ghost city. In the mash-up of urban architecture, buildings from different cities, some misremembered or out of scale, some hybrids of two or more towers, and some ghosts of buildings that have been torn down or were never actually built share space in a luminous landscape that resonates with the memories of cities in the visitor's mind. The installation was originally created for Tom Bradley International Terminal at LAX Airport in response to the unique state of mind of travelers in a disoriented limbo, a state that the artist considers dreamlike and poetic. For PUMP, Aschheim is installing Camelot in a conversation with some other sculptural meditations on Twentieth Century modernist architecture to bring to life a  shifting personal geography of memory.
Opening reception: Thursday, October 14th, 6pm - 9pm
Exhibition Dates:
Saturday, October 7, 2017
to
Saturday, November 4, 2017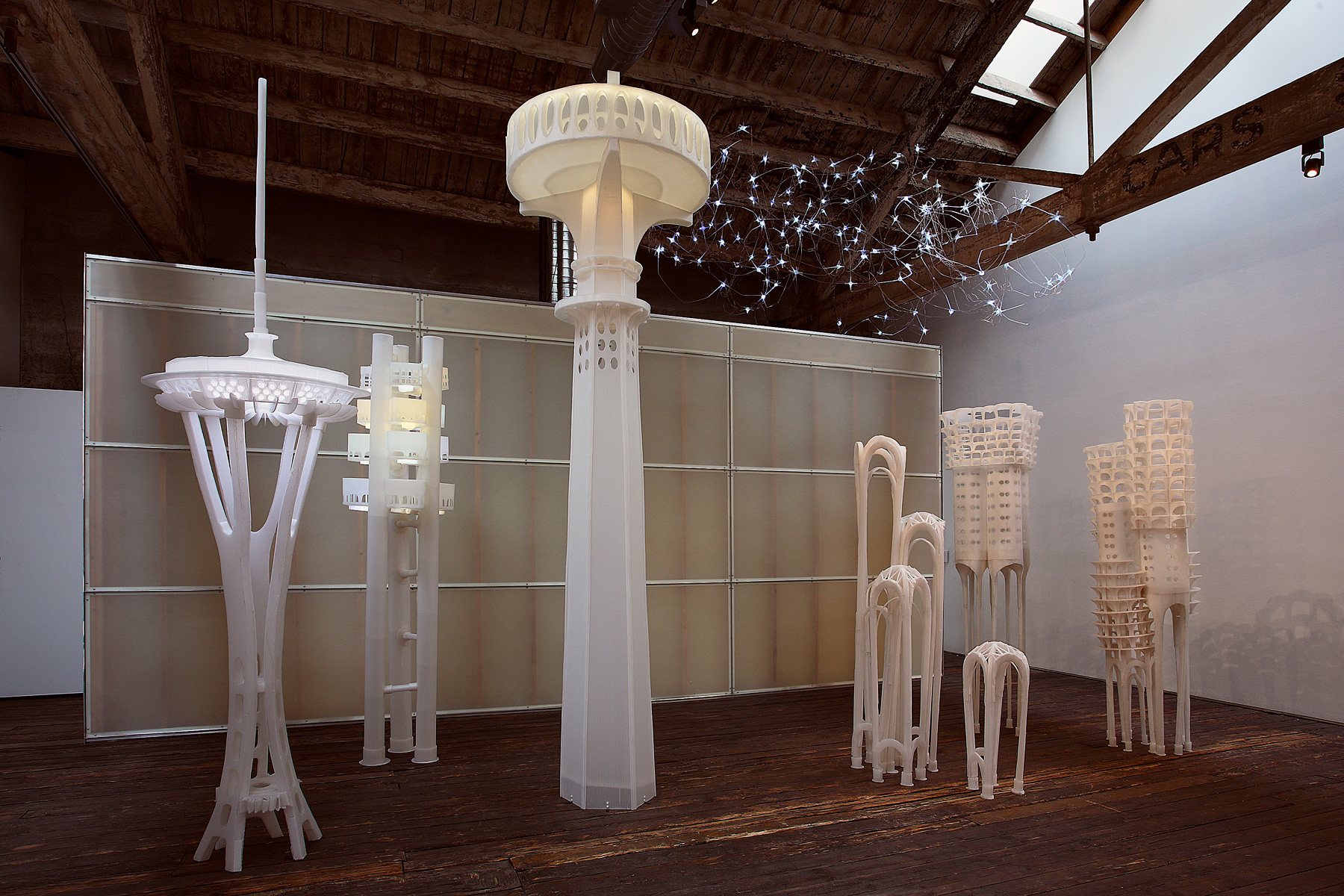 ---
Produced by FLOOD in partnership with: