Katie Stubblefield, Jennifer Gunlock & Hilary Norcliffe
Timber/Timbre is the collaborative effort between Long Beach resident artists Katie Stubblefield, Jennifer Gunlock and Hilary Norcliffe. Having known one another and admired each other's work since their time in CSULB's graduate Drawing & Painting program in the early 2000's, this project created an opportunity for the three to combine their unique approaches to art-making and interests into a single thematic installation. Each artist brings an inherent curiosity and whimsy to her work, and explores ways to convey her subject using non-traditional methods and materials. Stubblefield is an accomplished painter who has exhibited nationally and locally at such venues as Jordan Faye Block Contemporary, Baltimore, Maryland; 311 Gallery in Raleigh, North Carolina; Courthouse Arts Center in Woodstock; and Jamie Brooks Fine Art, Costa Mesa. Gunlock has been creating large scale tree collage-drawings in recent years; most notably an 11 x 15-foot mural on paper, "Urban Interface," for the NEA-funded exhibition "Fires of Change" in Flagstaff, Arizona in 2015. Throughout her career, Hilary Norcliffe has exhibited at such local venues as Irvine Fine Arts Center, Armory Center for the Arts in Pasadena, Angeles Gate Cultural Center in San Pedro, as well as several other venues locally and nationally. In 2016 Norcliffe participated in the event "Here & Now" at The Packard in Long Beach; and in 2013, she designed and oversaw the construction of a twenty-foot tree in "A LOT NORTH," a public art commission for the City of Long Beach.
Timber/Timbre is an immersive, interactive installation evoking an urban forest. Presented at the Creative Artists Cooperative at 1330 Gladys Avenue throughout the month of October, the "grove" will incorporate each artist's specific thematic interest in trees, with the added additional sensory experiences grafted onto each piece. Comprised of large-scale textured mixed media drawing, video projection, and interactive sculpture, people of all ages will be invited play and contemplate in the dream-like environment of Timber/Timbre. This multi-faceted installation encourages curiosity, contemplation, and respect for trees: growing, felled, whispering, transforming, sheltering, supporting, flexing, singing.
This exhibit may be viewed at the opening event on Oct 7, 5-10pm and the closing event on Oct 22, 1pm-3pm. Thereafter the gallery is open on Saturday 10/14 and Saturday 10/21 from 2pm-4pm. Otherwise it may be viewed by appointment only from Oct 7th - 26th. Contact us to set up your appointment.
Also showing around the corner on opening night, October 7th at 5pm is John Hillis Sanders.
Exhibition Dates:
Saturday, October 7, 2017
to
Saturday, October 21, 2017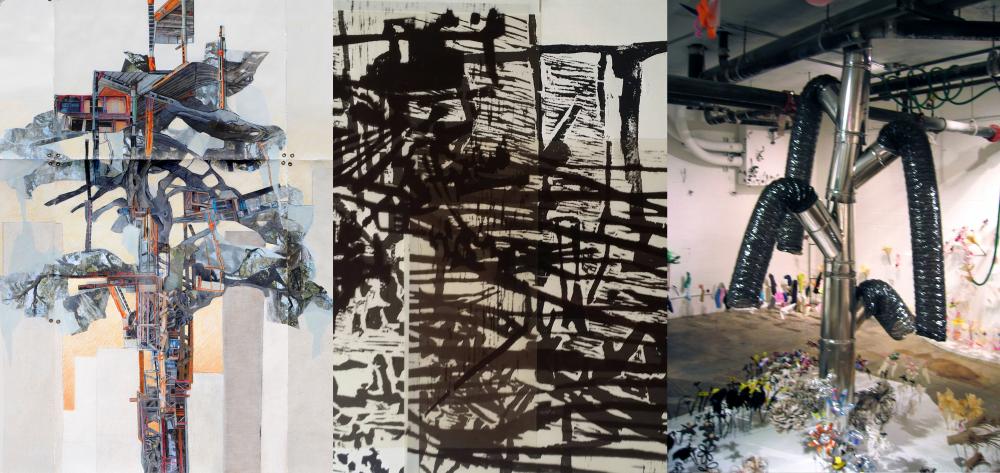 ---
Produced by FLOOD in partnership with: