Patrick Faulk
Earning his BA from San Diego State University in 2006, Faulk entered the commercial arts, working with Sorrento Valley based firm, Buchanan Design. Following a passion, Faulk left the firm to study Cabinet and Furniture Technology at Palomar College. In the Fall of 2011, Faulk was admitted into California State University Fullerton's MFA Program and graduated three years later with a concentration in drawing and painting. Faulk presently teaches Art at Garden Street Academy in Santa Barbara, Ca and laughs about it every day. It is with wide eyes and a level head that he continues the next leg of his journey; yet quoting the Spanish mystic St. John of The Cross, Faulk smiles:
"If a man wishes to be sure of the road he treads on, he must close his eyes and walk in the dark."
Poiesis according to Ancient Greek thought, is the act of bringing something into being that previously did not exist, and it is from this word, poiesis, that we get the word poem. When I realized this etymological link— that poetry is a kind of work, an act born of words—I was intrigued by a potential piece using language, chance, music, and interaction. Playing this non-traditional instrument, viewers are able to generate chance-based poem-like structures that are then subject to judgement. Is there meaning here to be discovered, or is it just empty words? That poetry can move someone to think and to act is a true celebration of our rationality. Through this piece, I invite the viewer to look, touch, and participate with sound, space, and meaning while musing on a quality of language: that we associate sound with meaning.
Exhibition Dates:
Saturday, October 7, 2017
to
Saturday, October 21, 2017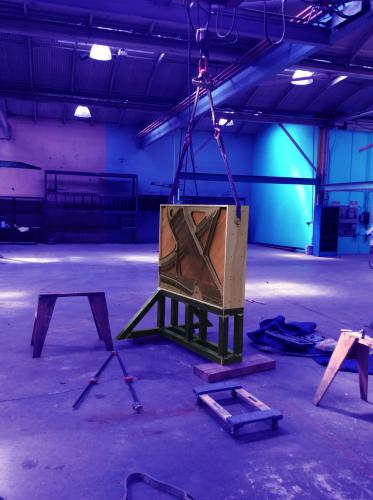 ---
Produced by FLOOD in partnership with: