DREAM WALKER
DREAM WALKER is an interdisciplinary creative artist group that creates new artistic experiences by bringing together emerging professionals from various nationalities and fields of practice. We believe the performing arts can create an extraordinary connection between artist and audience capable of making the world a better place. We dream a world where people, art, and technology are truly harmonized. The group was originally formed by Jonghee Woo, the current representative/artistic director of DREAM WALKER, along with emerging artists from various fields of the Korean performance industry. Later, the group branched out into the United States through collaboration with American and international artists from various artistic fields. Today, the group has successfully presented shows both in Korea and in the United States over the past few years.
WE CREATE NEW ARTISTIC EXPERIENCES.
WE CONNECT PEOPLE AND PEOPLE; ARTS AND TECHNOLOGY; DREAMS AND REALITY.
WE SHARE VISIONS AND DREAMS; CREATIVITY AND ENTHUSIASM; IDEAS AND EMOTION.
WE PIONEER UNCHARTED ARTISTIC AREAS, UNEXPLORED PLACES, AND UNDISCOVERED NEW POSSIBILITIES
WE BREAK DOWN THE WALLS OF BOUNDARY, LIMITATION, PREJUDICE, AND OPPRESSION SURROUNDING US.
WE MAKE DREAMS COME TRUE AND WALK A NEW WORLD TOGETHER.
DREAMSCAPE: Multisensory Contemporary Performance (Music, Theater, Dance, Multimedia), Inspired by John Cage's Variations VII (1966), Directed By Jonghee Woo, Presented by Artist Group: DREAM WALKER (approximately 60min)
DREAMSCAPE is a new, multimedia artistic attempt to integrate art and technology, incorporating video, sound, dance, theater, and live performance in order to capture true liveness and creativity. The main concept of the project was originally inspired by John Cage's Variations VII — one of the greatest performances in modern performing arts history — which was first performed in 1966 as part of a nine-evening concert series in New York. It was largely stochastic and of indeterminate length, making use of unrecorded, technologically-produced/electrically-amplified sound, and was the product of collaboration with artists from various fields of practice, including theater artists, dancers, musicians, and engineers.
In this project, we will apply the principle of randomness to select the materials for the liveness of the performance. We will therefore use live sounds, real time audio processing, live video, and improvised dance and acting rather than rely upon pre-recorded media, choreographed dance, scripted acting, or any kind of prepared artistic material.
As in John Cage's original staging, parallel platforms will be set up in the center of the performance space. On them will be placed technological components including sound generators, video devices, and a variety of high and low technological objects. Performers and sound/video artists will improvise artistic experimentations, responding to one another while actors and dancers interact among designers, objects on the platforms, and video projections on the walls. The audience will stand around the platforms, freely able to walk around the space.
Collaborators: Jonghee Woo (Director/Multimedia Designer) Rodrigo Correia (Cinematographer), Davy Sumner (Musician/Sound Director), Lee Kam Ying (Video Designer), Shawn E. Brown (Actor), Erik Dabrowski(Actor), David Michael Hochwalt,(Actor), James T. Majewski (Actor), Pricilla Jin Chung(Actor), Alan Perez (Dancer), Carrisa Songhorian (Dancer), Alexandre Malrait (Actor)
Performance date and time:
Saturday, October 21st, 2017,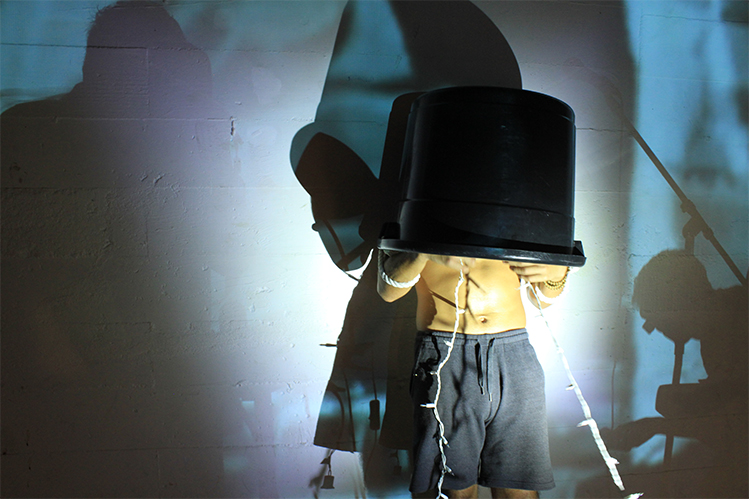 ---
Produced by FLOOD in partnership with: