SynthLab
SynthLab was founded in 2015 and is directed by Rychard Cooper and Matt Pogue.
Rychard Cooper is a professor of composition and electronic music at CSULB. Matt Pogue [Faraday Cage] is a multi-instrumentalist who does graphic design and web development for the music department at CSULB. Together with Tom Koch [univac] (visual effects artist and circuit bender), SynthLab began producing electronic music concerts for CSULB music students. Now, having expanded beyond the University, the collective continues to engage audiences in greater Southern California, most recently having participated in the SoundPedro sound-art festival (June 2017).
SynthLab is a collective of electronic musicians and visual artists based in Long Beach, CA. They produce multimedia concerts featuring original sound experiments, live video projections, and interactive installations.
Performing experimental sounds on October 20th at The Packard Building:
7:30 Cannibalistic Caterpillar
8:00 Pablo Bert
8:30 Qrux
9:00 Jesse Nason
9:30 Rychard Cooper
10:00 Som Shankar
10:30 Faraday Cage
visuals by univac
Performance date and time:
Friday, October 20th, 2017,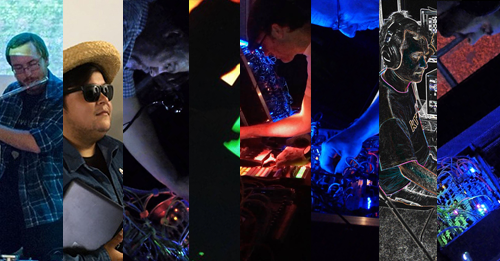 ---
Produced by FLOOD in partnership with: