Common Sense
"Common Senses", is an original aural and visual concept by Martin Espino. This work exploring the 5 Senses. Together with Video Digital Artist, William Almas and Cinematographer, Ivan Cordeiro (we presented FUEGO at SoundPedro 2017) we will interpret the theme, which focuses on the senses of Taste and Smell, in other words, Eating and Food. We will video record at different restaurants, gathering sound sources from them and the streets. For the foundation of it all, I will compose ambient and groove oriented music. Since the presentation brings the audience the senses of Hearing, Sight and Touch (via some musical interaction), I thought of inspiring the audience to do something we have in common, eat, and thereby experience those senses which we cannot perform!
MARTIN ESPINO concept creation and composer, is a world class performer of some 50 years, mainly focusing on the music and culture of Ancient Mexico. He has played in nearly every arena of performance from the L.A. Philharmonic, Motion picture soundtracks, theatre works, performing arts centers all the way to preschooler and cultural events, composers, musicians from all over the world! He is constantly at work either as a master teaching artist in schools, libraries and colleges making instruments for his artist residencies or he's composing or performing and touring! He is well versed in many types of music and his composition range from traditional to experimental!
WILLIAM ALMAS
William Almas began his adventure in the visual arts as a painter. His large scale portraits gave way to mixed media explorations. Faced with the daunting task of storing the fruits of his labors and with the advent of the home computer revolution William upgraded his skill set to digital imagery. This made his life simpler on his day job and offered an opportunity to see what could be done in the virtual environment. Starting by re-imagining his paintings with wild variations of saturated color Almas then moved into the realm of video production. His wild multi-layered "Retina-Burning" visuals have graced screens, walls, buildings, even shrubs in support of performers such as phog masheeen, Martin Espino, Skunk Puppet and Magic Bullet Theory.
"Common Senses", a music & manipulated video conceptual performance by Martin Espino & William Almas, using the senses of Hearing, Seeing and Touch to explore the subject of FOOD. You'll hear Long Beach, its' people, its' various languages; you'll see local eateries, chefs and food, all unified by cool city ethno inspired grooves and spectacular brilliant visuals, even participate with drums that the Martin will bring!
You'll feel inspired to adventure with the other two senses of Taste and Smell, thus exploring our community and finding the interconnectiveness we all share, the senses we all have in common; it's common sense!
Performance date and time:
Saturday, October 21st, 2017,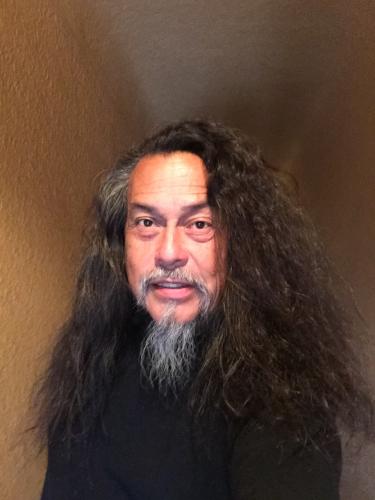 ---
Produced by FLOOD in partnership with: