Takeshi Kanemura
Southern California-based artist Takeshi Kanemura was born in Okinawa, Japan, and lives and works in Los Angeles. He received a BA from University of California, Riverside, an MA from California State University, San Bernardino, and an MFA from Claremont Graduate University.
Kanemura has transcended traditional Japanese art and absorbed those practices into his current art form of mixed media performative art. With the influences of Japanese-origin dance Butoh, traditional large scale Japanese brush stroke painting, and traditional music, Takeshi's current pieces incorporate all these elements with Americanized flair, to humbly represent the new present-day American status: the amalgamation of one's identity. Takeshi proudly displays the identity of the Japanese-American. His goals with his art are to promote cultural awareness and the embracing of all cultural heritages.
Everyone has something he/she wishes to reveal. It could be a personal strength, reactions to social inequality, or virtually anything else. In Takeshi's performance/installation Melt in Your Mouth, he will produce an ideal space for doing this. In each performance, Takeshi will wrap one audience member in a plastic sheet using packing tape to make shapes out of the sheet that at once conform to the person while also extending beyond him/her. The audience member will be able to feel the formation of the plastic, absorb the pressure applied by Takeshi, and hear the loud sounds of the moving plastic and wrenching tape. At last, he/she will become an organic sculpture made of industrial materials. After a few moments, Takeshi will cut into the sculpture and release the person from the object. Then he/she will be able to see the husk of the sculpture. During the entire process, cellist Mei Hotta will play music and/or vocalist Chris Law will sing. These melodic sounds will meld with the intentional noise of the plastic and tape, creating an uncommon space for the participant and other audience members. As the surroundings vibrate, members of the audience will not only witness the performance, but they will feel it.
Performance date and time:
Saturday, October 7th, 2017,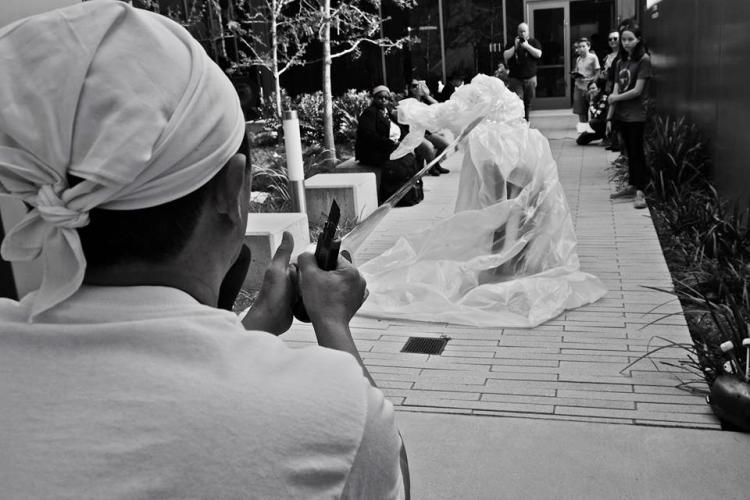 ---
Produced by FLOOD in partnership with: